Seva Ashram Development Project

Soquel, California

In 1993, on the Holy Appearance Day of Srimati Radharani and by the mercy and blessings of Srila Govinda Maharaj, with the help of all the devotees in our community, we purchased the 29-acre Seva Ashram property in Soquel, California. Over the years the Seva Ashram has been the center of our devotional community. Many guests, friends, devotees, their children and even grand-children, have found nourishment for their spiritual lives at the Seva Ashram.
In order to accommodate the needs of the expanding community of devotees and to satisfy the legal requirements of the County Planning department, we humbly present these plans for the satisfaction and service of our Gurudev, Srila Govinda Maharaj, and his friends and devotees.
We invite you all to join us to help manifest this beautiful project as an offering to Srila Gurudev and the community.
Proposed New Temple Center
(view from our driveway)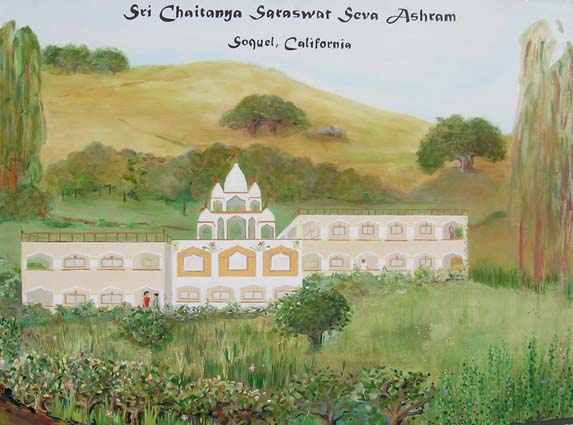 The plans for the temple center include a large new temple room with altar, a reception room, courtyard, two-story prasadam (dining) hall and kitchen, an additional large assembly room, offices, enclosed verandas, and storage rooms. The decorative domes are inspired by the domes that grace our Main Center in Sri Nabadwip Dham, India.
Proposed New Temple Center
(view from Gurudev's current house)
Proposed New Guesthouses
On the right is Guesthouse #1 (front view), with part of the two-story dining hall
visible on left.

Another view (from the rear) of Guesthouse #1 (on the left), with part of the upper story of the dining hall visible on right.
Front view of Guesthouse #3

Side view of Guesthouse #3

Front view of Guesthouse #4

Four new guesthouses will be constructed with a total of 40 individual guest rooms, each with attached private bathrooms for use by the existing residents and guests. Following the natural slope of our land, the front of each guesthouse will have the two stories visible, while around the back (and up the hill) only one story is visible. Each floor will have about 5 individual rooms with a wide enclosed veranda
in front of the rooms.
Proposed New Residence for Srila Gurudev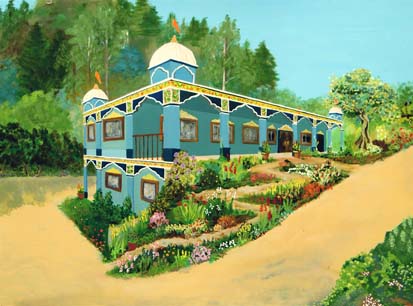 Our plans also include new quarters for Srila Gurudev with a larger meeting room to provide additional space for his many friends and devotees who come to visit him and receive his spiritually nourishing association. On the bottom floor will be five guest rooms.
Artwork painted by Sushila Devi Dasi